The Stage
1860 - 1865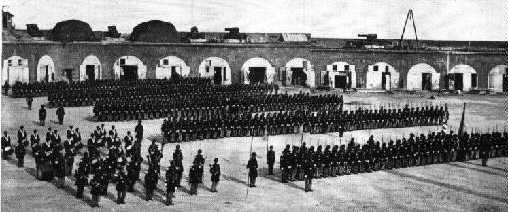 The Original 48th New York Regiment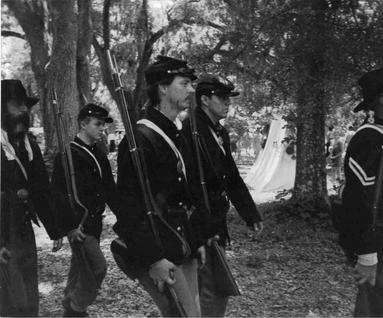 The 48th New York Regiment was involed in many battles during the Civil War, follwing the attack on Fort Sumter. They were a volunteer regiment made up of New York and New Jersey soldiers, but assigned to the Department of the South, figting along the south-eastern seaboard of Virginia, North and South Carolina, Florida and Georgia. When the 48th finally returned home, they had lost over one third of their men.
The Reactivated 48th New York Regiment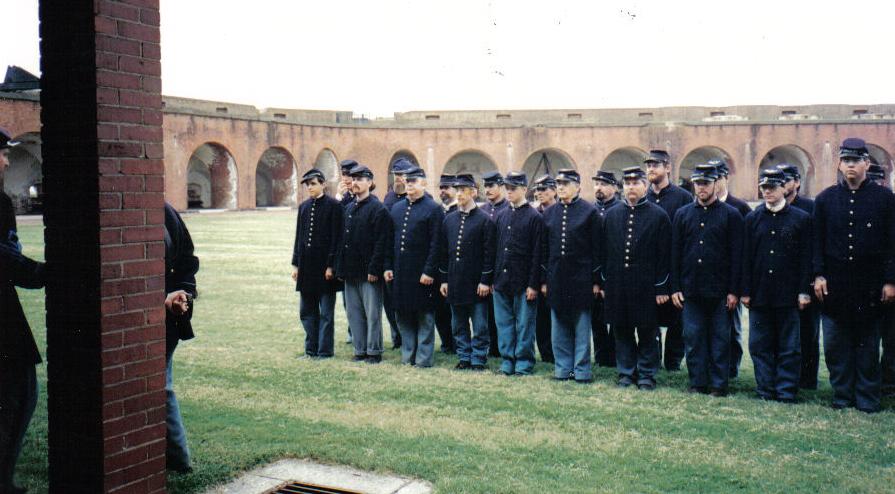 At the age of 13, Andy was the youngest inductee into the 48th when he enlisted in December of 1993. Through the course of his membership, he participated in every battle reenactment the 48th New York fought during the Civil War.


(This photo was taken as the 48th were making their way to Richmond Hill. Andy's mom says this was a tough route. "They slogged through swamps reenacting "Demon's March" to Savannah. They built log roads along the way. Andy had broken his right hand completely away from his arm and had just recently had the cast removed, and holding that gun was agony for him.")
the Poem: The Promise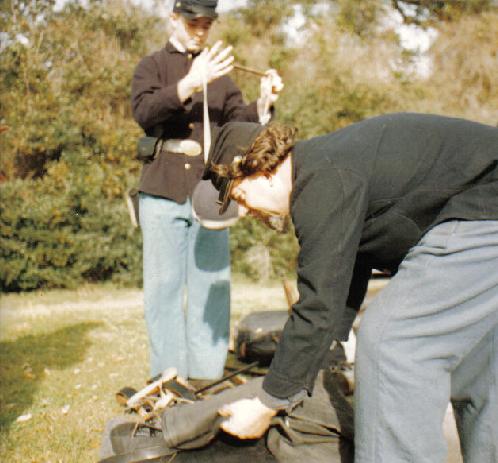 "They came forward, marching down the avenue,
all their colors and banners were flying high.
They all marched for the same reason,
and with a touch of fate in their eyes."

"They moved on with parade-like precision.
They moved on with their flags and banners aloft.
They moved on past the dead and wounded
as if promising them certain victory."

"Dedicated to the memory of those brave soldiers, blue and gray, who gave all they had for their beliefs." Andrew Anderson, Age 13


(This photo was taken in Fort Pulaski, Georgia. Andy is the 5th from the left in the front.)
There was no enemy...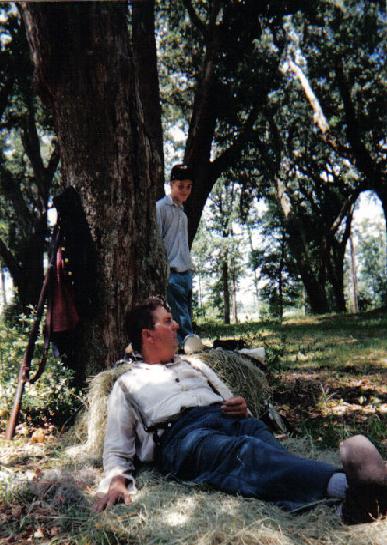 In 1994, Andy became a Published Poet, writing and submitting a poem he titled "The Promise", he was recognized in the "Voices of Poetry in America", in the "Fall 1994" issue.

"The theme for my poem (The Promise) was the Civil War...There was no enemy; both sides fought for their beliefs. The soldiers' bravery and dedication to their respective causes was the inspiration..."

Andy



(This photo was taken during the Battle of Fort Fisher, which was the largest Naval bombardment in history. It was by capturing Fort Fisher that the Union soldiers were able to close down the last open port occupied by the Confederate Army. In this picture, you can see Andy packing his canteen.)

The Three-Banded Musket...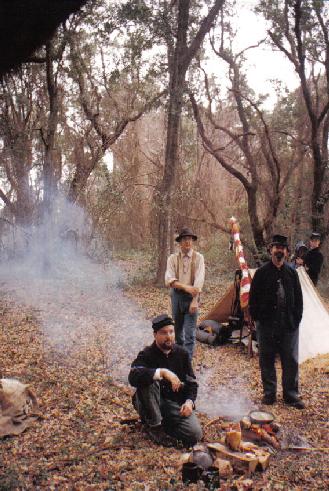 As his mom watched from a distance, she noticed Confederate soldiers charging these two Northern boys, one of which is Andy. "It was all I could do to keep from charging that field."

Andy wasn't able to be issued a weapon until age 16, but he was able to 'get around' that rule.

"He was too young to tote and fire a 3-bander, so he did what every other boy did. He put a piece of paper in his brogan with the number 16 on it." She told me that when they asked his age, he said "I'm over 16".

Andy's determination paid off - he got his musket!

(This photo was taken during the reenactment of the "Black River Raid", the very 1st battle Andy was able to actually fight in with his own issued rifle.)
Coffee beans, Salt Pork, and


While participating in the reenactments, soldiers were "authenticated" from their clothing (down to the hand-sewn buttonholes), their weaponry (three-banded black powder muskets), and even their available rations. They carried with them the same "snacks" as did the soldiers a century before. "They chewed on coffee beans and killed chickens", said Andy's mom. "It was so bitterly cold, they melted the soles of their brogans at the camp fire."


("Brogans" are also called "Jefferson Booties" and are ankle boots which came into service just before the start of the Civil War. At the time of the war, most were "straight last", meaning the left shoe was identical to the right one and a soldier would have to 'break the shoe in' to fit his feet properly. Brogans have four eyelets, leather laces and square toes, with wooden pegged soles and steel heel plates to add to the length of wear on the heel. Also part of footware was the "Gaiter", a form of canvas or leather guard laced up the lower leg to protect the pant legs from briars primarily.)
the Union Soldier
"What initially interested me in the Civil War was the movie "Glory". I started going to reenactments, and over a period of six months, I acquired a uniform. I then joined the 48th New York, a volunteer Union regiment out of Jacksonvill, Florida." Andy enjoyed the reenacting because it allowed for something different. He enjoyed helping others understand the Civil War. "I wish to educate the public about the war and the life of the soldier that went through it."

Andrew Keith Anderson
February 21st, 1997